History Teaches Us to Resist, by Mary Francis Berry.
January 21, 2018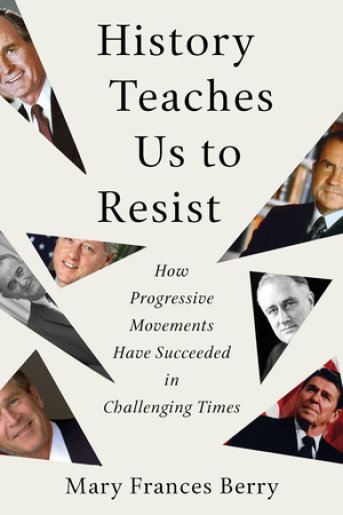 History Teaches Us to Resist: How Progressive Movements Have succeeded in Challenging Times. By Mary Francis Berry.  Boston: Beacon Books, 2018.
4 stars
Analysis of progressive movements since the mid-twentieth century by a black woman who lead many of them.
Mary Francis Berry (1938- ) has been an African American leader in academia and in various national movements for social justice.  Born in poverty in Nashville, she attended Fisk and Howard University and earned her Ph.D. in History and her law degree from the University of Michigan.  She worked to establish the African American Studies Program at the University of Maryland and was Chancellor of the University of Colorado at Boulder.  In addition, she has held significant positions in the national government becoming a controversial figure as the Chair of the Civil Rights Commission. She was originally placed in that position by Carter and then fired by Reagan. After suing the Reagan administration, she was rehired.  She later resigned to teach at the University of Pennsylvania. Clinton reappointed her to head the Commission, and she was again fired by George H. Bush.  She continues as a chaired professor at the University of Pennsylvania.
In History Teaches Us to Resist, Berry summarizes the national movements for social justice which she led and which swirled around her. Her focus is on what was happening at the national level in Washington where Berry herself was active. In a more or less chronological fashion she deals with particular movements like the first march on Washington led by Phillip A Randolph and the movement to Free South Africa as well as the political struggles of particularly conservative presidents. In addition to recounting events and tactics, she wants to provide future activists with evidence of what has worked for their predecessors and what has not.  For example, she stresses that social media has not eliminated the need for careful face-to-face discussions and confrontations. Also she maintains that even if a movement does not achieve its immediate goals, it can educate both politicians and the public about needed change.
Given the scope of Berry's work it is not surprising that the organization of the book is weak. Her own account of her involvement in movements appears buried in the chapter on the fight to end apartheid. For me, some of the best part of the book dealt with events in which she had taken a part.  At times I wished she had written a memoir rather than a history, but that would have been difficult to organize also.
I strongly recommend History Teaches Us to Resist, especially for those of us who are wondering how we could have achieved anything at the national level.
Beacon Press merits congratulations for publishing three excellent books of African American history this spring that will be welcome by teachers, scholars, and the general public.  All three can help us regain a more accurate vision of the actual character of the Civil Rights Movement at a time when that vision is being sentimentalized and "white washed."  I will be reviewing all three this week so you can check out the others.
A More Beautiful and Terrible History, Jeanne Theoharis.
An African American and Latinx History of the United States, by Paul Oritz.
History Teaches Us to Resist, by Mary Francis Berry.