An African American and Latinx History of the United States, by Paul Oritz.
January 16, 2018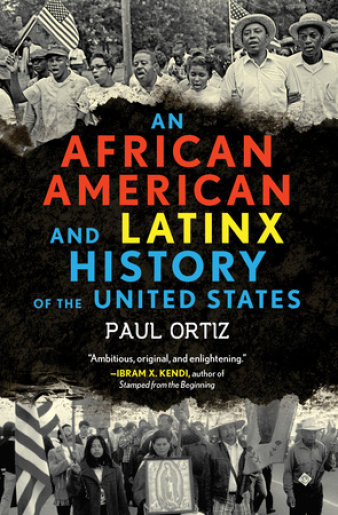 An African American and Latinx History of the United States, by Paul Oritz.  Beacon Press, January 2018.
4 stars
An exemplary history of the little known thread of internationalism informing the activism of people of color in the United States since the revolutions here and in Haiti in the 1700s.
Paul Oritz teaches in the history department of the University of Florida where he specializes in African American and Latinx history and the history of social movements.  His Ph.D. is from Duke, where he edited and collected oral histories for the award-winning, Remembering Jim Crow.  He also served in the U.S. military in Central America where he became disillusioned by our nation's policies.
In his biographical note at the University of Florida, Oritz refers to this book as titled 'Our Separate Struggles Are Really One.'  Certainly that title aptly captures its main thesis.  Hidden away in newspapers and convention speeches is an ongoing message that oppressed people need to unite and fight for each other if they hope to be free.  By researching seldom read sources, Oritz has added a new perspective on American history, one that few of us in the history profession knew about.  His findings will probably be attacked by those who continue to want to whitewash our history, but he is simply adding another thread to our story, one that helped me, for one, better understand some the quirks of our foreign policy.
Oritz's new book is part of an ongoing series being published by Beacon Press entitled "ReVisioning  American History."  The series is committed to broadening our understanding of who we are by exploring little known parts of our past.  Other books in the series include volumes on indigenous and disability history and the history of queers.  I applaud Beacon and historians like Oritz for these contributions to an expanded version of who we are as citizens of the United States, even when they reveal that our nation has exhibited less than perfect behavior in the past.
I strongly recommend this book for the classroom and for others interested in an expanded version of American history.
Beacon Press merits congratulations for publishing three excellent books of African American history this spring that will be welcome by teachers, scholars, and the general public.  All three can help us regain a more accurate vision of the actual character of the Civil Rights Movement at a time when that vision is being sentimentalized and "white washed."  I will be reviewing all three this week so you can check out the others.
A More Beautiful and Terrible History, Jeanne Theoharis.
An African American and Latinx History of the United States, by Paul Oritz.
History Teaches Us to Resist, by Mary Francis Berry.