Little Gods: A Novel, by Meng Jin.
October 12, 2019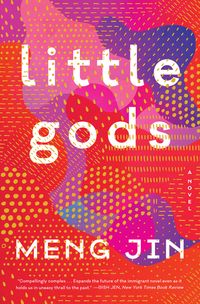 Little Gods: A Novel, by Meng Jin.  HarperCollins, 2019.
FORTHCOMING December 2019.
5 stars
A brilliant novel about a Chinese mother, her daughter, born during the Tiananmen Square Massacre, and the book's characters' attempts to reject their pasts.
Little information was available about Meng Jin.  She was born in Shanghai and now lives in Brooklyn. She attended Hunter College where she studied writing.  This is her debut novel.  In the only picture of her that I found, she appeared to be of European descent.  Perhaps she has achieved the rejection of her literal past and recreation of a new identity that some of her characters attempt.  Regardless, her book is excellent; indicating perhaps that a person need not be a hereditary member of a group to write about them well.
The central character of Little Gods is a talented woman physicist, whom readers come to know only through the narratives of others, including her husband and daughter, a nurse and a neighbor.  All these relationships are complex and ambiguous and we only learn gradually what has happened between those involved.  Despite the disparate voices and themes, the book is tightly unified, leaving no confusion of the time and place action is occurring.  Perhaps Jin avoids this common problem with the thick interweaving of characters in each other's stories.  Perhaps she achieves unity with the ways in which she touches repeatedly and lightly on themes of time and rejection of the past.
While the physicist obsesses over the reversal of the Second Law of Thermodynamics, readers need not understand the science she explores. Yet we can recognize how it relates to the human attempts to erase personal pasts and start over that characters exhibit.  The book is less about resolving philosophical questions of time and reality and more about observing others' attitudes toward them.  For example, when the physicist dies, her daughter is determine to explore her mother's life and identify her own father.
Little Gods may raise questions for readers about how much our past determines our present and future.  It also explores the ambiguity of rejecting or accepting parental identity.  The book is also full of tension over what we simply don't know as the book proceeds.  Attention to details of places and people add the book's strength. The details of China after Tianamen Square are not well known for many readers.  But most of all it is extremely well written and a joy to read.
I enthusiastically recommend it to all readers.