Trauma and Grace:  Theology in a Ruptured World, by Serene Jones. 
May 6, 2019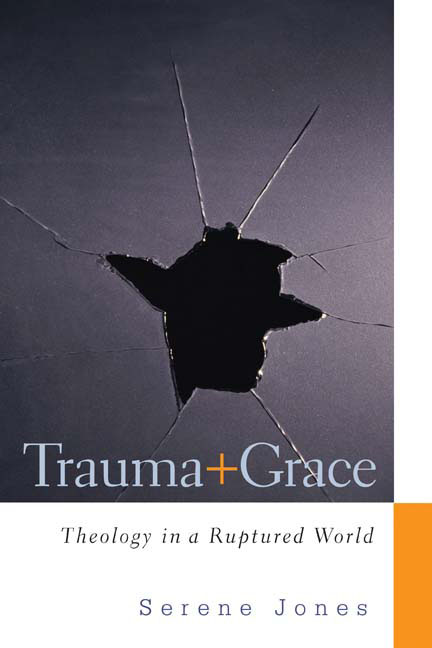 Trauma and Grace:  Theology in a Ruptured World, by Serene Jones.  Westminster John Knox Press, 2019.  First edition,  2009.
An updated edition of a book about trauma and violence and the need for a new understanding of Grace, written by a mainstream Protestant leader.
Serene Jones is the President of Union Theological Seminary, an ordained minister in the United Church of Christ, and a popular writer and speaker on issues of religion, gender and diversity.  Born in 1959, Jones grew up in Enid, Oklahoma, where her father was Dean of the Seminary and President of Philips University.  She graduated from the University of Oklahoma, Yale University and Yale Divinity School. She went on to teach at Yale Divinity School where she was chair of Gender, Women, and Sexuality Studies.  In addition to numerous articles, Jones has published 4 books, including a new memoir of her own journey as a theologian.
Jones is one of a group of feminist theologians who write from deeply within traditional Christianity.  Her discussion will probably be most meaningful to other Christians, especially other theologians.  She often writes in abstract or imaginative language and links her examples to her experiences as a minister. Her methodology involves a close reading of the Bible, but not a literal or fundamentalist one.   She is also widely read in the field of trauma studies.
Within this framework, Jones asks us to rethink our understanding of violence, trauma, and Grace.  Her concern is that belief in redemption and dependence on Christ's Crucifixion implies that God tortures and sacrifices His son, permitting people to use violence and the forced sacrifices of others.    She does not valorize passive acceptance or suffering as good as been promoted by some Christians in the past.  Instead she points to a Christian message of Grace for ourselves and those suffering around us.  Trauma and violence cannot be undone, but they must be accepted and mourned within a Christian context of Love.
This is a book that will probably be most meaningful for those interested in the writings of feminist theologians who are challenging traditional beliefs from within the Christian framework or those who are seeking to re-establish their own sense of God's love after trauma.