A Girl's Guide to Missiles, by Karen Piper.
September 20, 2018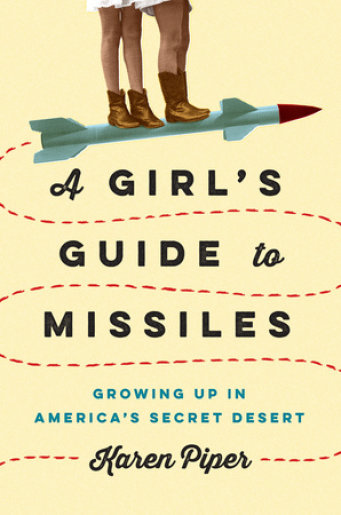 A Girl's Guide to Missiles: Growing Up in America's Secret Desert, by Karen Piper.  Penguin, August  2018.
4 stars
A perceptive memoir about growing up and coming of age in a small town on the edge of giant missile research and testing ground.
Karen Piper is a literature and geography professor at the University of Missouri.  She has published several non-fiction books.  In A Girl's Guide to Missiles, she writes about her own life, living as a child in a small town inhabited by the families of worker at the China Lake missile range in the Mojave Desert in the years after World War II.
The town of China Lake epitomized much of life in postwar America with its emphasis on effective military devices and the fear they engendered even in those who made them.  Yet the people of the town, and Piper's family were ordinary working-class individuals, doing what was needed to support themselves.  By and large their dramas were minor domestic ones.  A strong Evangelical faith undergirded their lives and helped them believe in the value of creating effective killing devises.  Unsurprisingly when Piper left China Lake for college, her unquestioned conservative beliefs were challenged.  As she describes, she came to reject her trust in militarism, secrecy, and rigid conformity.  Her book is an exploration of where she came from and why she changed.
Piper is a good storyteller. Her writing is clear and accessible.  Her book adds to our understanding of how the United States solidified itself as a world power.   I loved her vivid descriptions of the desert in which she lived.   I am glad to recommend it to other readers, especially to those of us who are old enough to share her memories and to those who care about how this nation has become what it is today.