The Air You Breathe, by Frances de Pontes Peebles.
June 12, 2018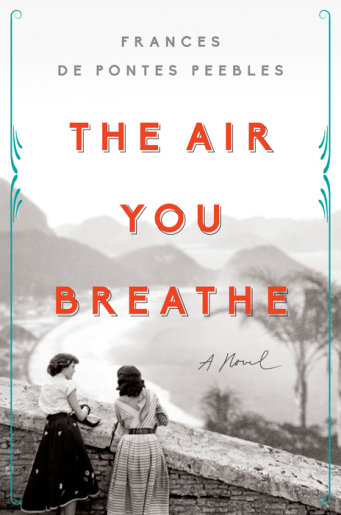 The Air You Breathe, by Frances de Pontes Peebles.  Riverhead Books, 2018
Forthcoming August 2018.
5 stars FAVORITE
An amazing novel set primarily in Brazil about two women, the daughter of the plantation owners and the orphan from the kitchen who run away together to make music on the streets of Rio de Janeiro.
Frances de Pontes Peebles was born in Brazil. She has studied at the Iowa Writers' Workshop, taught at the Bread Loaf Writers conference, and held a Fulbright Grant.   Her short stories have appeared in a variety of literary publication, and she received numerous awards for her first novel, The Seamstress.
The structure of the novel is key to holding together its diverse content.  Dorcas, now in her nineties, is the narrator.  She is the last living member of the group who gained fame and fortune playing and singing sambas. The writing is largely chronological with each chapter followed by a poem/song relating to the actions taking place.  Next there is a much shorter section relating what happens at the end of the book.
Dorcas was an orphan who had been taken into the cook on a large sugar plantation in northern Brazil.    With no other children around, she was befriended by Graca, the much loved and spoiled daughter of the plantation. Together they discovered the classical music of Graca's mother and the native songs of the plantation workers. As teenagers, they ran away to live and worked in the streets of Rio de Janeiro's famous Lapa neighborhood.  Their songs haltingly began to earn them enough to live on.  Soon they were found by a small group of men who gathered regularly to play samba.  Garca joined the Blue Moon Boys and became stars.  Dorcas moved into the dual role of manager and Graca's indispensible assistant.  Then tragedy struck, and each of the survivors had to figure out how to cope.
Peebles' writing is as lush and flowing as the sambas that her characters love.  The book has a musical quality as well as characters who can articulate what the music and its creation means to them.  I find I am tempted to use expansive words in reviewing it. Yet its grandeur is held in check by the dangers of living on the edge of dreams and ambitions. Peebles is particularly successful at depicting contradictory feelings.  While Dorcas is open to sexuality with both women and men, Garca only chooses men for sexual encounters. Dorcas and Graca are intensely, but not sexually close to each other.  Yet they are never equal.  Their bonds result in a complex mix of hate and jealousy as well as love. Yet at times the music supersedes their conflicts.  I am not really a person who responds easily to music, but in this book I was carried away.
I enthusiastically recommend The Air You Breathe to all readers. It a long novel with lots of characters, but one that is worth your time and energy.