A More Beautiful and Terrible History, Jeanne Theoharis.
January 14, 2018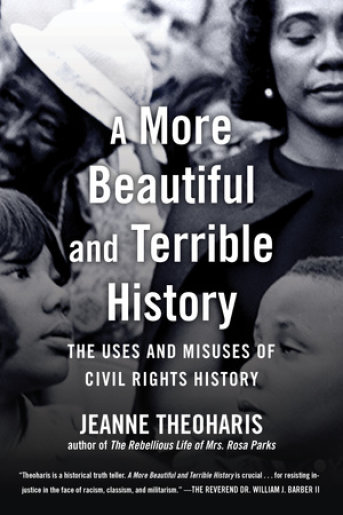 A More Beautiful and Terrible History: The Uses and Misuses of Civil Rights History,  Jeanne Theoharis.  Beacon Press, 2018.
5 stars
A powerful account of the Civil Rights Movement in all its "terrible beauty" and an analysis of how that history is already being watered down and misused.
Jeanne Theoharis is Distinguished Professor of Political Science at Brooklyn College. She has published on Civil Rights, race, and social welfare.  Her book, The Rebellious Life of Mrs. Rosa Parks, was especially well received.  In it she introduced some the themes which shape her latest book.
Theoharis is concerned about how recent politicians and pundits are nostalgically comparing the American Civil Rights Movement of the 1960s and 1970s with similar movements today as if the former protests were better because they were quieter and less disruptive.  She displays abundant evident that this view is simply not true.  Taking her title from the words of James Baldwin, she reminds us of the anger and disruptive force of earlier years, often telling stories that we have conveniently forgotten or never understood.  In the process, she reveals the common threads of then and now and encourages readers to speak out despite allies who would silence them.
Early chapters in the book address the way in which long ongoing activism lay behind the activism of the 1950s and 1960s.  If white people had known the history of their own towns and regions, they would not have been "surprised" when protesters appeared.   Theoharis fleshes out the actions of Rosa Parks and others in Montgomery long before the Boycott.  She also describes how even Martin Luther King angered whites and some blacks who feared  what might be lost in the response to open opposition.zi
As Theoharis explains race relations in Northern and Western cities always were distorted as opponents used different words to keep the Civil Rights Movement confined to the South.  She focuses on Los Angeles, Boston, and Detroit, where the protest of blacks had long gone ignored until they burst out in violence. She also devotes chapters highlighting the young people in the movement and women's roles.  Instead of repeating the emerging stories of rural women organizers, she reveals the roles of women in the 1963 March on Washington and the exclusion of them by the black male leaders.
I recommend this book to all readers.  In telling her stories, Theoharis opened my eyes to events I had never known about, even though I have researched and taught African American History. It is simply an enjoyable taste of history at its most truthful and beautiful.  Once she pointed it out, I immediately saw the numerous ways in which we are minimizing the power of the Movement.
Beacon Press merits congratulations for publishing three excellent books of African American history this spring that will be welcome by teachers, scholars, and the general public.  All three can help us regain a more accurate vision of the actual character of the Civil Rights Movement at a time when that vision is being sentimentalized and "white washed."  I will be reviewing all three this week so you can check out the others.
A More Beautiful and Terrible History, Jeanne Theoharis.
An African American and Latinx History of the United States, by Paul Oritz.
History Teaches Us to Resist, by Mary Francis Berry.